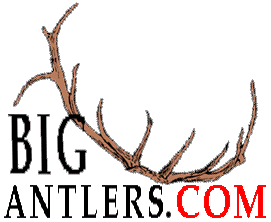 Species Names

This site being rebuilt spring of 2019



Into The Wilderness Trading


307-360-6005




P.O. Box 1908 / Pinedale, WY 82941-1908
Antlers only ship from Wyoming - September through March.
Ivories & tusks ship anytime from either Vermont or Wyoming.
2/10/19

bigantlers.com is for sale -

$ 35,000 or reasonable offer.


Includes this url and all for sale inventory at time of sale as shown on this site.
Does

NOT

include the

Into The Wilderness

name.
Very simple to set up, run, and change over shopping carts. I will help the buyer set it up and help with transfer of ownership. You can have a running internet business almost overnight. Bear in mind, we are breaking the antler business from the rest of Into The Wilderness. You are buying url, inventory, web presence. There will be NO copies of our business tax returns, statements, etc. released.
Nearing retirement and the business has been a lot of fun for many years.Time to concentrate on other things now.





Whitetail Antlers

Elk Antlers
Page 1
Page 2
Page 3

Mule Deer Antlers
Page 1
Page 2

Moose Antlers
Page 1
Page 2

Sheep & Goats

Caribou Antlers
Out of stock

Miscellaneous

Fallow Deer, Red Stag,Axis , Sika, Etc. Page 1 Page 2 Page 3

Blacktail & Coues Antlers

Elk Ivories
Page 1
Page 2
We are rebuilding the elk ivory pages. Stay tuned


Warthog/Hippo Tusks
Page 1
Page 2

Shed antler/Detachable Antler Mounting Kits

Links
(Read before linking to us.)
PAYMENT may be made by:


paypal

to antlers@bigantlers.com using any major credit card
Shopping Cart ( our shopping carts are linked directly to paypal's secure site)
M/C & Visa directly
Money Order
Cashier's Check
Personal or business check (allow 10 days to clear)
NO COD.

307-360-6005.Call or email for shipping costs if not posted. Always call or email when mailing an order. This way we will be sure to hold the item for you. Ordering more than one item ? Let us know and we will try to cut down shipping as much as possible.



Into The Wilderness

Ships to the US ONLY and
ALL shipping costs shown on this site are for US delivery !!
!! NO INTERNATIONAL SALES. !!
Welcome to the TROPHY ROOM!
These pages will show our constantly changing inventory of racks, mounts, rugs, shed antlers - huge sets and singles. There will be average pieces, record book items, sets for amateur taxidermy, as well as for collectors, decorators and more. But, remember - every piece is one of a kind and subject to prior sale. Know the laws!!

You are responsible for checking the laws in your home state. All items offered are legal to sell in Wyoming. Into The Wilderness is not offering for sale any item deemed illegal to purchase in your state or location. Please check before you order. We cannot keep up with all the changing local and state antler restrictions and request any updates to your state laws that you may be aware of regarding antler sales. Thank you.

Conserve our Wildlife
TURN IN POACHERS

NRA Member ? You can become a member here;
www.nramembership.org/
For information on any antlers, or mounts on this site, or any antlers that you might be looking for, please contact us at:
Email #1



Into The Wilderness


WY 307-360-6005



Sites owned by Into The Wilderness Trading




www.linkertcarbs.com

- rebuilt Linkert & Schebler carburetors, Linkert carb parts



www.eyeoftheraven.com

- Fine art, artwork by WPA artist Maybelle Richardson Stamper

,

,Unusual antiques